Satyagraha is defined by Wikipedia as an insistence ("aagraha") of truth ("satya"). It is a
particular philosophy and practice within the broader overall category generally known as

nonviolent resistance

or

civil resistance. Please don't be surprised at me writing these definitions - I really wanted to be sure what the word meant to be able to justify the name of the Ajay Devgan and Amitabh Bachchan starrer Prakash Jha's creation - Satyagraha.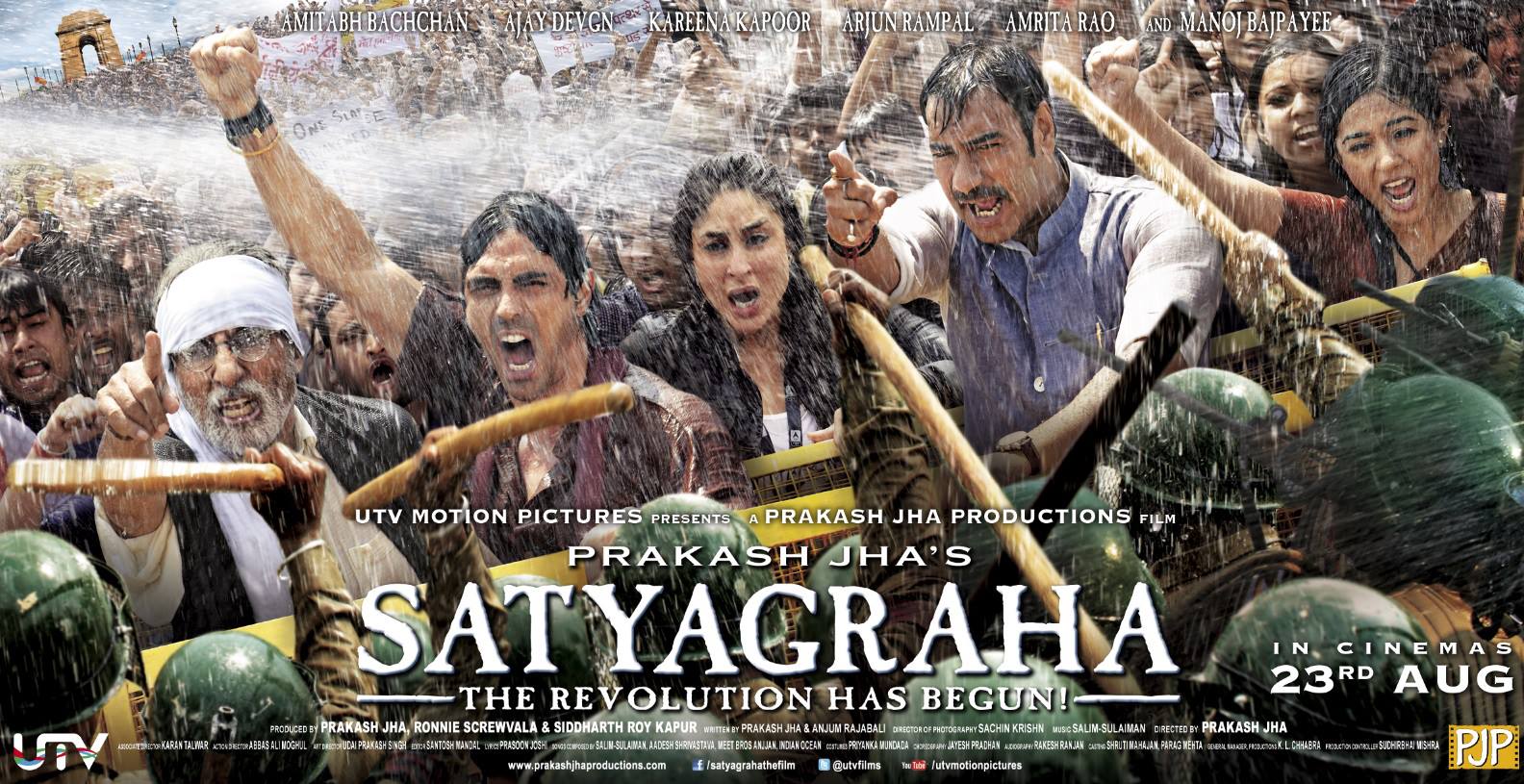 This movie is meant to be seen for some of the best performances by some of the great actors!
The story-line is pretty straight forward in terms of fighting the government against the corruption and scams. It can be said to be loosely resembling the Anna-Kejriwaal scenario that was all over the media in the past. It is about the beliefs of an old man, Amitabh Bachchan, who wants to straighten the system for the help to others. Ajay Devgan, the torch bearer of the "jan aandolan", tries to bring the cause in limelight against all odds. His efforts have been portrayed very beautifully - paying college students for promotions to creating FB pages, and bringing fake support on first day to initiate the incoming people. Kareena Kapoor, an ABP News reporter is in their side along with Amrita Rao who plays Amitabh's daughter-in-law.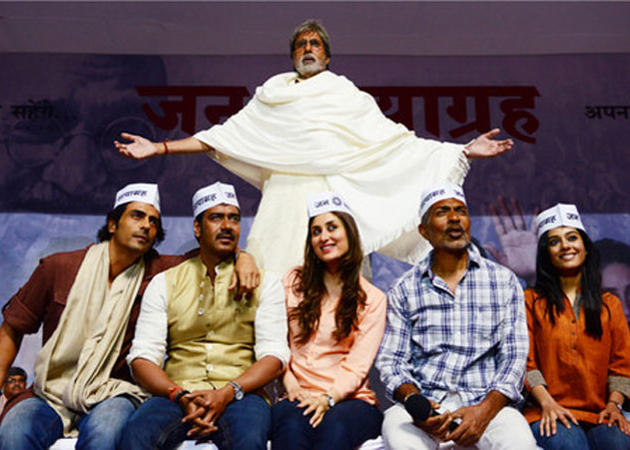 Amitabh Bachchan's screen presence as usual makes other actors disappear and stays in focus as long as he is in the scene. Ajay Devgan, who has gained a lot of weight, was an angry young man with strong beliefs - a lot like Gangaajal. Kareena looks so gorgeous even in such a non-glam role - makes me adore her even more! However, the two actors who won my heart with their performance are Arjun Rampal and Manoj Bajpayee. Manoj Bajpayee is the politician everybody is fighting against - yet I couldn't hate him even for a second. I loved one of his lines, " Har politician itni mehnet karta hai elections me taaki paanch saal k liye select hoe aur jee bhar k kama paye. Koi aam aadmi usse ye haq nhi cheen sakta."
Arjun Rampal who played the part of a young budding politician looked so apt in the role as if it was real - it was one of his finest performances. He had his own unique charm and a strong personality - made me fall in love with him! I lost my heart to him as soon as he entered with a rifle in his hand - No he isn't a villain but even if he was, he would have made for the most handsome villain in the history of Bollywood! *blinded by love*
The songs are pretty catchy, like Janta rocks! and Satyagraha - title song. It also has a romantic number Saanwariya - Raske Bhare Thore Naina in which Kareena apparently declined giving any intimate shots. So the director placed a fake movie kiss to fool the audience! :P However, the title track won my heart, thus leaving the link with you.
I would rate this movie a 4.1 out of 5 stars! Do watch it for an awesome experience :D
P.S. The movie has one or two very violent scenes including a large amount of blood and stuff. Close your eyes then but don't miss the movie! :D